Spin Palace
Play Casino Games at Spin Palace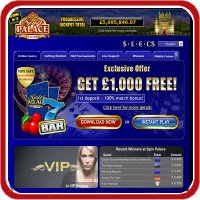 SpinPalace Casino is not the youngest kid on the block, but it's easy to forget that it has only been around for half a dozen years. The promotions for new players are famously extravagant, and have to be seen to be believed – think in terms of being invited to play for free for an hour and getting to keep all the money you make and you'll have a good idea of what to expect.

You can play a good number of games via your web browser with SpinPalace Casino if you're in a hurry, but to get the full choice of games here at Spin Palace (which means more than 250) you need to download the software. When you launch this you will be presented with a brief (but perfectly formed) animation and then with an announcement which tells you about the latest SpinPalace Casino news and offers.
Click on the "View All Games" to see half a dozen categories of games. A nice feature here is that you get to see a preview screenshot of each game as you highlight it, which potentially saves a lot of time trying games you aren't familiar with.
Games are an audio-visual treat at SpinPalace Casino. Graphics are realistic and clear and sound effects (including ambient noise) are very good at establishing an authentic atmosphere. Select Expert mode and you can then set your own autoplay rules for games from the Settings menu. Another button at the foot of the screen will show you your statistics for your current gaming session (for example, total number of deals/spins, the length of the current session in minutes, highest win achieved so far, etc.) This is really handy and makes for good record-keeping.
As well as being able to play casino games in pounds sterling, Spin Palace customers can also bet in several other currencies and there is a huge list of acceptable deposit methods to choose from. This, along with the massive range of great games and 24/7 customer service, give us plenty of reasons to love the Spin Palace online casino.
You will find a whole host of fun and enticing casino games in the other featured casinos we review - Virgin Casino, William Hill Casino, 32Red Casino, Coral Casino, VC Casino, Gaming Club UK, Ladbrokes Casino, Intercasino UK and Totesport Casino